Betfair ambassador Dimitar Berbatov talks Manchester United's rebuild, Ronaldo's future, Benzema's 'big balls', Champions League semi-finals and more…
Unfortunately, it looks like United are out of the race for a top four spot. They are relying on other teams losing and, while we have seen dramatic events in the Premier League, United finishing in the Champions League places would be incredible.
They now have to rebuild. They will have to be strong and smart because talking about finishing in the top four as an achievement for a team like Untied, despite the ups and downs over the years, is an insult. They should be challenging City and Liverpool up there for the title.
The best players will want Champions League football, but United don't necessarily need the best players, they need the right players for the team.
Without Champions League football, United can get a year to totally rebuild and restart the process of remodelling the team, and Erik ten Hag can get used to the culture and get used to things.
United need the right players for the positions and philosophy that Ten Hag wants to produce. So get the right players in, make them the best players and get the club back to where it should be.
I want Ronaldo to stay but understand if he leaves
Ronaldo is doing incredibly well for his age with the way he plays and the goals he scores. To have so many Premier League goals in a season at his age is an incredible achievement. He is doing what he needs to do, and that is score goals.
His game is different now than it was before, but one thing is a constant, the goals. He still produces and scores which is so important.
He has one more year at United, which is a good thing in my opinion, and now it is down to him whether he stays or leaves. I'd be glad to see him stay and of course things depend on the new manager and on what Ronaldo wants. He is an icon in football and when you are like that your opinion matters.
I'd be happy to see him stay and continue scoring as well as helping the players around him. If he decides to go, obviously you can not blame him. When you are used to playing Champions League football every year of your career and then you don't have it, it's tough to accept.
His performances this season show how well he is taking care of himself. He will want to play as long as he can and show that the impossible is possible. He has proven that he can still do it at 37 in the Premier League, he likes to prove people wrong and I'm pretty sure that he will want to continue doing that and play a few more years.
When he stops it will be a sad day for football because he's one of the true greats. That day comes for everyone.
Man City v Real Madrid was pure football
The Champions League semi-final between Man City and Real Madrid was pure football. You want to watch games like this and support football in it's purest form. I love these types of games that have everything, goals, great players, great managers.
I don't think the tie is over, it's not going to be easy for City in Mardid and it's still 50/50 in my opinion.
If anything the first game showed us, these two teams can score goals, they have big players and if they get the opportunity both sides can take chances.
I hope the second leg will be another great game between City and Real, there's so much at stake. I think both teams will start carefully and try to find weaknesses and mistakes in the opposition. It could be a boring match, but I hope that isn't the case.
Benzema is one of the best in the world
It was great to see Karim Benzema continue his great run of form in the game at the Etihad. When you are full of confidence and you play good football, it doesn't matter if you missed two penalties in the previous game, you still know that you are good enough to do what you want to do on the pitch.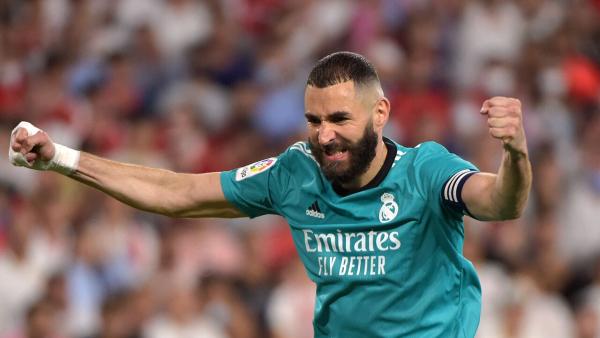 You can have a couple of setbacks, like he did in the previous game, but as long as you play good football and things happen for you and you believe in yourself then things work out.
Of course, you need to have big balls to do a Panenka on a stage like this, it's great self-belief, either you're going to look stupid or you score.
Villarreal still have a chance
Let's not underestimate Villarreal and isntead credit them for where they are at the moment. They have done something very special in this season's Champions League.
I don't think the tie is finished yet. You can say it's a good result for Liverpool but Villarreal can pull off a surprise like they have done before in this competition.
Yes 2-0 is a comfortable lead for Liverpool and, with the players they have it should be enough for them, but there's still a chance for Villarreal, especially if they score an early goal.