With this weekend witnessing a massive clash at the top of the Premier League, Infogol's Jake Osgathorpe takes a close look at title race. Who will win the Premier League? He uses expected goals (xG) to answer…
The title race looked over in mid-January, with Manchester City 13 points clear of then-second-placed Chelsea and 14 clear of Liverpool.
Just under three months later, and City lead the way by just a solitary point from Liverpool, while Chelsea's challenge stalled.
We can now be certain that the name on the Premier League trophy will again be one of City or Liverpool, with the pair pushing eachother to incredible levels in three of the past four seasons.
Pep and Klopp dominating the PL
In 18/19, City prevailed by just a point (98 to 97). 19/20 saw Liverpool get revenge and their first Premier League title, and this season looks set to go all the way yet again.
What needs highliting first though, before we dive into who will win the title and the ramifications of a huge game this Sunday between the pair, is just how good these two teams have been under Pep Guardiola and Jurgen Klopp.
Incredibly, since Infogol began collecting data in 2014/15, no team other than City or Liverpool have ever finished a season with an expected goal difference (xGD) per game of +1.0 or better.
It has happened only nine times in eight seasons (including this term), with Pep's City (6) and Klopp's Liverpool (3) the teams to breach that mark.
Guardiola's City have managed this feat in all of his seasons in charge, even the first campaign where the pundits were giving him some unfair criticism.
Liverpool managed +1.0 or better in 17/18 – highlighting that their title charge didn't come from nowhere – and 18/19, as well as this season, with the 21/22 Liverpool currently on par with City's 18/19 side as the best Premier League team Infogol has ever seen.
Hopefully that just puts into context just how good both of these teams have been, and currently are, in comparison to other league teams over the past eight seasons.
In terms of this season, Manchester City represent the league's best defensive team, allowing 0.73 xGA per game, while Liverpool are the top flight's best attacking team, generating 2.69 xGF per game.
Across 30 games this season, City have conceded just 17 non-penalty big chances (0.35 xG+) – unsurprisingly a league low – while no team has generate more non-penalty big chances than Liverpool (76).
That doesn't mean City's attack is poor, or Liverpool's defence is struggling – far from it, both units rank second in the league.
City are generating 2.42 xGF per game, Liverpool are allowing 0.99 xGA per game.
Many though Chelsea could make this season's title race a three-way battle, but their underlying process (1.79 xGF, 1.06 xGA per game) is miles away from what the top two are delivering.
The state of play ahead of the weekend
City hold a one point lead in the title race, and have the benefit of welcoming Liverpool to the Etihad in the head-to-head which is why they are understandably 1.51 favourites on the Exchange.
Pregame, Infogol's model makes City 68% (1.47) favourites to lift the trophy, suggesting there is a slither of value in the price of Pep's side.
Given the numbers the pair are putting up this season, it does really feel like this game is 'winner takes all' though.
Whoever wins this match, and has a lead heading into the final seven games of the season, is highly likely to prevail given the gulf between the pair and the rest of the league.
It wouldn't be a surprise to see both City and Liverpool win their following seven games, not dropping a single point.
That's what makes this game all the more important.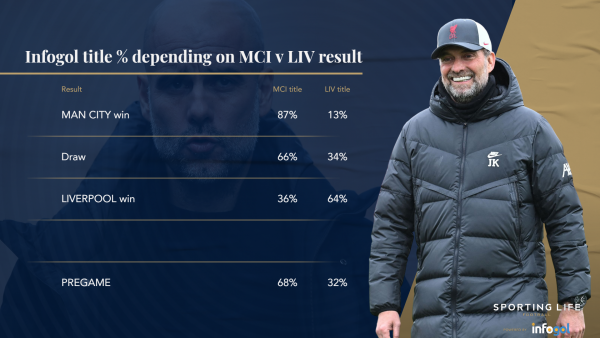 If City win on Sunday, their chances of winning the title according to the Infogol model increase to 87% – they would move four points clear.
A draw would also suit City, though their title chances would drop by 2% in the case of a stalemate, while a Liverpool win would see the pregame probabilities pretty much flip-flop, with the Reds moving into favouritism – but not by as wide a margin as if City were to win.
The market currently has Pep's squad priced around 2.05 for the win, implying a 49% chance, with the Reds available at 3.75 (27%).
Sunday's game may be the biggest league match for over a decade, simply because of the amount riding on it and the levels of the two teams this season.
Pep's City and Klopp's Reds are setting unprecedented levels of underlying process, and it will be facinating to see who prevails at the weekend, and in the long run.
One thing is for sure though – while we have these superstar managers and incredible teams, enjoy them, as good things must always come to an end.
You can download the FREE Infogol app on the IOS and Android stores.